USE COUPON CODE: 
"JVZOODEAL"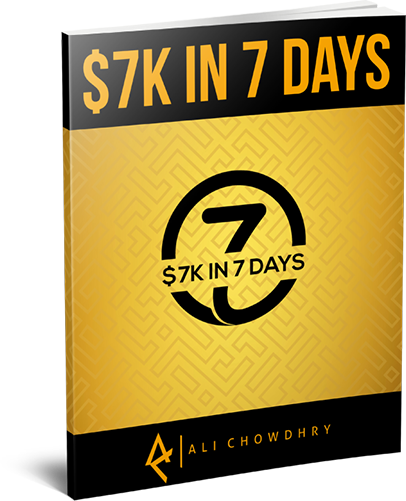 $7k in 7 Days Blueprint is Ali Chowdry's blueprint for making money online without a list, product, or even paid advertising. It's a simple to follow system where nothing is left behind!
$7k in 7 Days Blueprint is a comprehensive, 41-page eBook taking you step-by-step through Ali Chowdry's process for online success. Included with your purchase is the audio course, which is playable on any audio device.
You'll discover Ali's blueprint for making $7,000 in 7 days with zero list, zero product and zero paid advertising. Plus, Ali will also reveal his preferred source of free traffic… a trove of millions of targeted buyers across a variety of niches.
If you don't have a list, you don't have a website,  or you don't have a budget for ad spending, then $7k in 7 Days Blueprint is right for you. If you're looking for a simple way to make money online, this is a great place to start.
This is how much we anticipate this product could contribute to your online business success. List Building - 60%    Traffic Generation - 100%    Sales/Commissions - 100%  Branding - 80%
$7k in 7 Days Blueprint is a newbie-friendly way to start making money online. It's also perfect for anyone who's returning to Internet Marketing and wants to start from scratch.  Also be sure to checkout our other top sellers this week:

OTHER JVZOO TOP SELLERS THIS WEEK