Start making more sales and earn more money with zero extra effort. Simply log in to JVZoo, go to your Payment Profiles and connect your PayPal account to the new PayPal Commerce Platform. Click here to get started now!
A few weeks ago we added the PayPal Commerce Platform option to the growing number of payment solutions you have access to inside JVZoo. In case you missed that announcement, you can read the blog post here.
The PayPal Commerce Platform is particularly interesting for JVZoo users since it gives you a lot of advantages and tools that will increase your conversion rates… and not least because it has been fully integrated with JVZooPay.
If you haven't set up your JVZooPay account yet we highly recommend that you log in today and connect it to your Payoneer or bank account.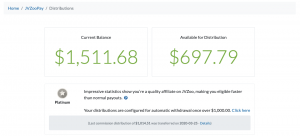 But let's take a look at why these two solutions work so well together and the advantages they bring to both affiliates and product vendors.
JVZooPay
When you use this as an affiliate, you will receive all of your affiliate commissions straight into your JVZooPay account. From here you can easily withdraw it to your Payoneer, bank account or even to PayPal. 
You can use JVZooPay to receive commissions from 99% of JVZoo vendors almost no matter what payment solution they are using on their offers. You don't have to worry about getting paid either… you will get instant, automatic payments for each sale, straight into your JVZooPay account.
Product vendors will also enjoy the benefits of automatic affiliate payments. It eliminates all accounting headaches and ensures that your affiliates are always paid and taken care of.
Both vendors and affiliates will also benefit from the added safety JVZooPay offers. Your accounts are no longer connected when a sale is made. In other words, you won't experience sanctions due to what someone else did or didn't do.
PayPal Commerce Platform
This new way of using PayPal offers a lot of benefits and in our last article, we told you about the 5 ways the PayPal Commerce Platform will increase your sales.
One of the biggest benefits is that your subscriptions are no longer limited. Previously the PayPal system capped your subscriptions through JVZoo at $12,000 and 10 years. With this new update, you can now have unlimited active subscriptions, at any amount and there is no time limit at all! Great news for vendors with recurring products and the affiliates promoting them, this will make it smoother for you to grow your residual income!
As many of our members are switching to this new solution we're also starting to see some of the benefits play out on a wide scale within JVZoo.
Firstly, PayPal Commerce Platform being integrated with JVZoo means that you can promote and receive commissions from an affiliate product that uses PayPal as their payment solution… even if you don't have a PayPal account yourself!
This has already increased the potential affiliate pool for many vendors and given affiliates a much wider selection of products to promote.
Another great feature in PayPal Commerce Platform is the modal check out popup that allows customers to finish their purchase without leaving the JVZoo checkout page. As you probably know every step you can eliminate gives the conversion rate another bump upwards. We're already seeing that and as more and more vendors switch to this new option, we expect to see conversion rates go up across the board.
That brings us to the one feature we forgot to mention last time… and it's an exciting one!
1-Click Upsells
Let us get one thing straight first… the FTC does not allow true 1-click upsells anymore. They require you to click to confirm that you understand that you are making another purchase… so maybe everyone should be talking about 2-click upsells.
That said… it's still much better than the regular method. Remember that every step you eliminate will increase your conversion rate.
Here's how that works with the PayPal Commerce Platform.
During the initial checkout, the modal popup fires and the customer can check out using PayPal… without leaving JVZoo!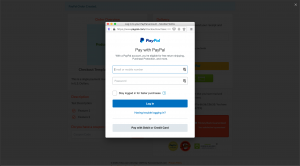 2. When they go to purchase one of your upsells, they will see the PayPal popup again… but this time all their details will be saved and they just have to click one button to add the upsell to their order.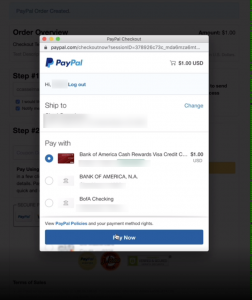 That's it… it's now easier than ever for people to order more products from your sales funnel. We expect this to greatly increase upsell conversion throughout JVZoo. This means more sales and commissions for both vendors and affiliates.
Log in to JVZoo now and go to your Payment Profiles to quickly connect your PayPal account to the PayPal Commerce Platform, so you can start taking advantage of all the new features and start making more sales with less effort… today!