JVZoo loves to celebrate the success of our Sellers and Affiliates!
All the hard work and determination needed to achieve the status of one of the Top Performers at JVZoo is deserving of special recognition. And so, we would like to share with you the Top Affiliates, Top New Affiliates, & Top Performing Products of the Month of April!
These people and products have earned a well-deserved April Shout Out! Congratulations to you all!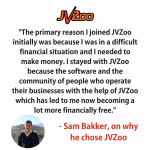 April Top 5 Affiliates:
We'd also like to shoutout some of our other top performing affiliates this month:
Martin Crumlish, Mario Brown, Ankur Shukla, Venkata Ramana, Mosh Bari, Igor Burban, Glynn Kosky, Matt Bush, Mark Hess, and Michael Thomas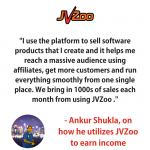 Top 5 NEW Affiliates Who Have Made Their First Sale In The Last 90 Days:
Ionut Lunculescu

Edward Henrich

Ismael Linares

Anwar Craven

Rockmell Sanchez
And, These Are The Top Performing Products & Their Owners Who Trust Their Business With JVZoo:
Some other great product launches we'd like to acknowledge:
Traffic Victory, Stefan Ciancio
Auto Affiliate Machine – Brand New, ProfitJackr
ThemeMaker Agency License, MichaelFormby
Real Specific – Power, Justin Anderson
SOCIOWIDE – The ultimate social design templates, Bayu Tara Wijaya
FastEye Pages, Daniel Adetunji
AffiliateNinjaPro Professional, Dr. Amit Pareek
Vidmonial Commercial, Ben Murray
WP Dev Suite ULTIMATE UPGRADES, C-Point Team – Craig Crawford & Firas Alameh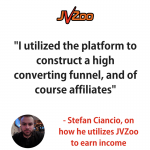 If you don't see your name or product here, don't worry! We will be showcasing our top performing affiliates and products every month! So, keep your eye out and keep up the good work!
Together, we continue to build the best network for product owners and internet marketers.