It's a common myth that building a recurring income is hard… This isn't just incorrect – it's completely WRONG!
Building a steadily growing recurring income can be as easy as adding a simple recurring upsell to your product funnel.
And you don't have to sell a lot for such an offer to have a real impact on your income…
In fact, if you just make one new sale a week for a very modest $47/mo… you'll end up earning $29,328 a year… year after year! And as long as you keep selling that number will keep growing!
Getting paid over and over again for work you only do once… that is the key to true financial freedom. And nothing quite beats the rush of the big rebill days, where you see automatic payments piling up before you even start your workday.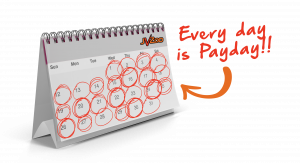 With the current health crisis and especially the new recession… it has also become increasingly important to build up your own economic safety net and regular recurring payments can be a real lifesaver when everything else goes south.
Here at JVZoo, we are always trying to find ways to make it even easier for you to build up your recurring income.
The current crisis gave us an idea for a new feature, that will have a huge positive impact on your recurring income potential.
Millions of people are losing their jobs right now and finances are tight in many families all over the world
It's not a stretch to imagine that an internet marketing subscription will be one of the first expenses they will cut.
So in order to help you keep as much of your current recurring income as possible…
….and to allow you to continue to service and educate your customers at a time where they need it the most – to be the hero that gives them a break!
We're giving you the ability to edit individual subscription amounts for customers.
You can for example…
Lower the amount for the next payment all the way down to $0.50 if needed.

Lower all future payments the same way

Increase prices again when the customer is willing and able to pay the full amount.
This will be a fantastic tool for helping you maintain and grow your recurring income.
If a customer wants to cancel you can offer them a discounted monthly rate. After all, some recurring income is most often better than none!
This feature is already live, you can use it immediately – and here's exactly how it works.
You now have an edit button at the top of each of your active subscriptions – like this…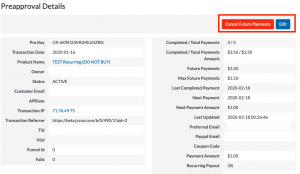 Once you click on the edit button you now edit the next payment, all future payments (or both) – like this…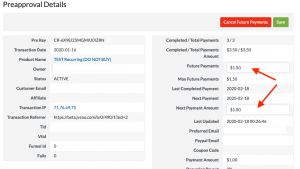 We hope you love these changes and will put them to good use. They should help you maintain your recurring income a lot easier, even in these trying times. And the changes will also make it a lot easier for you to quickly build up your recurring income and secure your own financial freedom.
Log in to JVZoo today to try it out and don't forget to add that recurring offer to your marketing funnel!
Have a Great Day,
Your JVZoo Team!