There's no doubt about it, some affiliates seem to have a type of 'magic' when it comes to earning record-breaking commissions on product launches. You've seen them on the leaderboards time and again; winning prizes and receiving recognition.
If you're like most other affiliates, you probably sat there looking at their stats, scratching your head and wondering what kind of spell they put in their emails to get conversion after conversion.
What is their SECRET?
Turns out, it's their BONUS PAGES!
But, we're not talking about any old run-of-the-mill, slap some outdated PLR on a webpage and call it a bonus, bonus page. We're talking about the kind that takes a ton of thought and time and planning and experience and….
Wait. Just Kidding!
It IS all about the bonus page, but thankfully, the secret goes even deeper than that! JVZoo is making it easier than ever for you to score BIG as an affiliate! Forget about all the time you might have spent struggling to find the perfect bonuses, uploading them to your own server, constructing the perfect bonus page layout, keeping them all updated, etc. Those are all things of the past!
JVZoo is now integrated with Commission Gorilla V2 – a powerful, yet simple to use, web-based platform that makes it easy for you to create profit-pulling bonus pages with just a few clicks of your mouse! AND we've taken the time to work with the creators to secure a sweet deal exclusively for JVZoo users!
Get started today for only $1.00!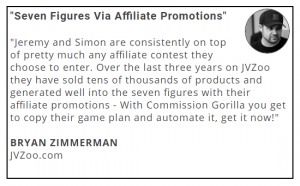 Commission Gorilla V2:
Helps Affiliates BOOST their Affiliate Commissions up to 5x MORE.

Allows you to

easily create, promote, and store effective bonus pages for your affiliate campaigns.

Cuts your workload down significantly so you can spend time working on perfecting swipe copy, building your list, and testing your funnel.

Is 100% Newbie Friendly and Incredibly Easy-To-Use
And, best of all…

It Works! How do we know?
The creators' affiliate efforts alone have generated close to $3 Million dollars in sales across multiple niche markets and for 100s of products in the past 2 years alone. So, they know a thing or two when it comes to affiliate promotions.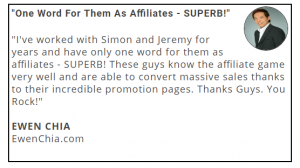 Take A Look At Commission Gorilla V2 In Action:
When you get started with Commission Gorilla V2 today, you get:
4 Different Bonus Block Layouts

for you to create and save an unlimited number of bonuses so they're always ready to use when you need them for a new promotion.

Drag & Drop Promotion Page Builder

that allows you to fully customize how your page looks, add video, graphics, CTAs, Social Sharing, and more in minutes without ever touching a line of code.

The Ability To Start Promoting and Sharing Fast

. With built-in sharing options (Twitter, Facebook, Google+, and LinkedIn) you can share immediately to get instant traffic, saving you time and getting you ahead of your competition.
You will be able to build out your next affiliate promotion page super fast and have the ability to run up to 20 different promotional campaigns at the same time!
Better yet, they do 100% of the hosting for free with no strings attached!
In our opinion, there is no better bonus page builder on the market and we're not the only ones who think so!

And did we mention the bonuses? You'll be off to an excellent start with 10 Done-For-You Bonuses ready for you to use on ANY promotion! They're all there waiting for you when you get started today!
For a buck. That's right – you can take this magic affiliate bonus bus for a FULL Test Drive for Just $1! You can't even buy a pack of gum for a $1! It's a no-brainer!
Where can you find it?
You can find Commission Gorilla V2, along with some other useful tools, on our TOOLS page. Simply scroll down, look to your left, and CLICK the "Try Now" button!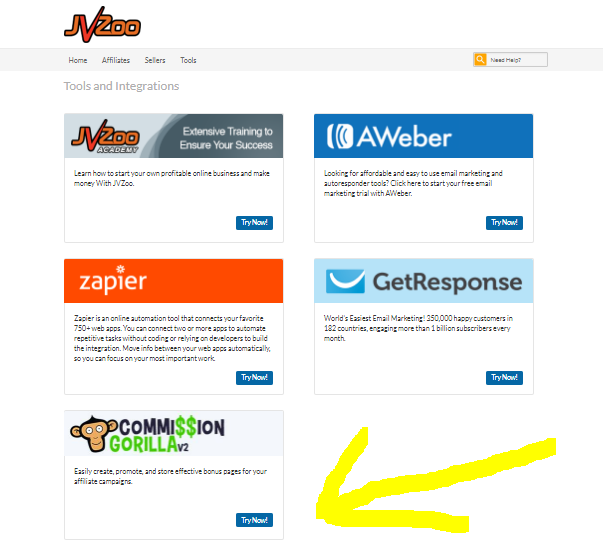 It's YOUR Time To Become A Super Affiliate, get on those leaderboards, & receive the recognition you deserve!
Get Your Hands On Commission Gorilla V2 Today!