We are very excited to announce the latest JVZoo update with 3 powerful new features…
These brand new features are already live. Together they'll give you instant access to more and better data than you've ever had access to before!
But while data is great and knowledge is power… we're always 100% focused on helping you make more sales.
So let's take a quick look at these new features and see exactly how they can help you earn more…
1. "My Customer" Info Page (live now!)
We have built a new page where you can see all your customers ranked by how much they have spent with you. You'll also be able to see how many refunds they have and what the net income from them is. Find this under the sellers' drop down in your dashboard.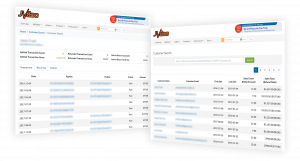 You can search by name, email and transaction ID to find individual customers.
There is a lot of valuable information on this page…
Here are 4 ways you can immediately start using it in your business.
Find your best customers, the big spenders… your whales. Contact them and find out what they need. Get solid product ideas that will be a hit with your core market.
If you have someone requesting a refund outside of your guarantee… You can now look them up on the customer information page. See if they are a top customer with a low refund rate, that you'd want to go the extra mile for.
Is someone taxing your customer support? Look them up and see whether they are a loyal customer or a serial refunder. On one hand, they could be a problem client you need to "break up" with… or they could be the canary in the coal mine, telling you that something needs to be clearer in your product.
Identify your best customer's patterns of spending… use this information to construct laser-targeted sales funnels for your audience.
2. Weekly Recap Emails (live now!)
We've also rolled out our weekly performance recap emails and you'll receive one of these every Monday…


These recaps will give you a quick overview of your account information such as:
How were your sales and revenue compared to the previous week
Who are your top affiliates
What are your best selling products
What you can expect from your recurring income
This will save you a ton of time. You can see what areas of your business you need to focus on this week, to keep growing your revenue.
It will show you what products you should push more. It will also suggest what affiliates and product vendors you should reach out to.
… and you can do it all from one convenient email, without even having to log in to JVZoo!
Beating the competition is great… but real growth and success come when you can beat who you were last week… every week!
3. Affiliate & Seller QuickStats (live now!)
The 3rd new feature is actually a "2 for 1", as you are getting both an Affiliate and a Seller QuickStats page.
Previously you had to search on several different pages to find all this information… but now we've combined all the data into a single page, so you can see how your business is performing at a glance…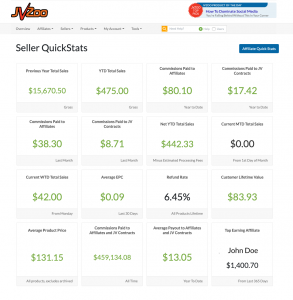 Instantly find your yearly, monthly and weekly sales stats, refund rates, commissions paid and much more… all on the same page with no searching needed.
But "customer lifetime value" is probably the single most powerful piece of information.
Finally, you can see exactly what a new customer is worth to you!
This makes scaling your business a breeze. You'll know exactly how much you could pay to get a new customer, while still staying profitable!
Your Affiliate QuickStats gives you a detailed overview of your commissions earned. It will also give the lifetime value of your referred customers!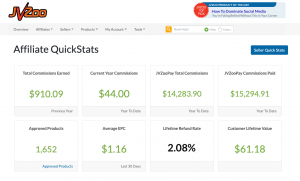 Remember that these features are already live in your account!
Go check them out right now and see how you can start using them to make more sales and grow your revenue.
We know you are going to fall in love with the profit potential access this data puts at your fingertips…
We'd love to hear your feedback on the new features too. How are you going to use this data in your business? Leave a comment below to let us know.
And stay tuned… we have many more exciting updates and features scheduled to go live very soon!