We are always trying to make it as smooth as possible for you to use all your favorite marketing tools to earn even more money with JVZoo. When it comes to raw money making power, few tools will beat your email marketing service and several of the best ones are already integrated with JVZoo.
Today we're excited to announce the addition of another great email marketing service. A lot of our members asked for ActiveCampaign to be included and we were more than happy to deliver on this one.
As of right now, ActiveCampaign is officially an integration option inside your JVZoo account and you could go add it to any of your products today.
The various email marketing services have different strengths and which ones you prefer often comes down to what you value the most in your business.
If you aren't familiar with ActiveCampaign yet, they are arguably one of the most feature rich solutions when it comes to automation, allowing you to set up a near unlimited amount of custom flows like the one you see here.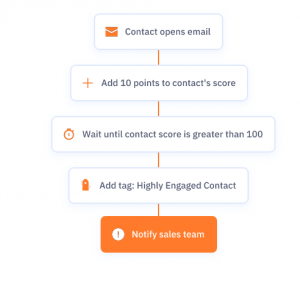 In fact, they are more of a full CRM (customer relationship management) and sales platform, than just an email marketing service. 
And if you want to get into SMS marketing they are definitely worth a look too.
But there is one area where they really differ from most of the other integrated services… Active Campaign does not allow affiliate links in emails sent through their service!
Now you might be asking yourself why an affiliate network like JVZoo would even bother integrating with them then.
Well firstly… as a product vendor you can use them without any problems to market your own products to your prospects and customers.
If you are an affiliate marketer or a product vendor who also sends out affiliate promotions, you can also still use Active Campaign as long as you adhere to their affiliate marketing policy.
Here's what you're not allowed to do.
Sending affiliate offers. You have a single list and send various affiliate offers to it.

Sending emails that have the sole purpose of pushing an affiliate link or offer.

Sending an email with the sole purpose of promoting another product or business that the contact has no prior relationship (nor opt-in) with. Your contacts must always be able to recall why/how they are getting emails and the relationship with the sender must be clear.

Any emails related to getting rich, making money from home, etc… (as it conflicts with other parts of our TOS)
And here's what you can do.
Adding relevant affiliate links to an email with high quality content. The affiliate links should not be the primary focus of the email.

Send updates and information about your own affiliate program to your registered affiliates.
While these rules may seem harsh at first glance, they do help ensure that ActiveCampaign maintains not only their deliverability and reputation, but your deliverability and reputation as well.
These email best practices could even make you more money!
When you think about it it's not as strict as it sounds either… in fact adhering to these rules could help you significantly improve the results from your email marketing.
It's all about focusing on delivering great content and building a relationship with your subscribers. If you send quality content to your list, you can include the occasional relevant affiliate link without any problems.
You are of course also allowed to link to your own websites, blog posts, videos, bonus pages etc. This means that if you do your affiliate marketing with bonus page, review page and other types of landing page and still use ActiveCampaign.
When you do that you are no longer just promoting a link. You are adding value for your subscribers by giving them information, reviews and bonuses that will help them and you are likely to see better conversion rates and more sales as a result.
That said – ActiveCampaign is definitely not for everyone, but if you can live with these limitations, it WILL give you a lot of sales and automation power.
As always the choice is yours… but now you have the option to instantly integrate your Active Campaign account with your JVZoo products.
Log in to JVZoo today and check it out and see all the other powerful integration options too.