We take your commissions seriously and while we're always working hard on helping you make more sales and earn more affiliate commissions…
We also want to make 100% sure that you receive every single affiliate commission you earn.
Generally, JVZoo works on a "last cookie gets the sale" basis. We believe this to be the best and most fair way for all affiliates… it ensures that if you earn the click, you will also get the sale.
We do have life-time vendor cookies. If you refer a customer to a vendor you will automatically earn a commission for everything else that customer buys, until a new link is clicked and a new cookie set. This gives you the best of both worlds.
With today's JVZoo update we're taking a huge step towards securing your commissions even more.
You might have experienced customers trying to claim your bonuses, being adamant that they bought from your link, yet you don't see the sale anywhere.
The new Commission Guard will completely eliminate this problem. 
If JVZoo detects a suspicious cookie change, we will now ask your customer if they really wish to change their referrer, like this…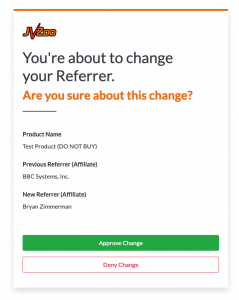 This will completely stop cookie stuffers in their tracks, without being an annoyance for your customers.
In fact, 99.99% of them will never see this pop-up, as it will only come into play when foul play enters the equation.
Commission Guard has already been deployed, it's already working and protecting your commissions. You don't have to enable or do anything. it's all done for you.
There is more to it than what you see above though. There is a lot of new stuff going on behind the scenes to help protect your affiliate commissions. But since we want to stay two steps ahead of the cookie stuffers we, unfortunately, can't reveal all the details here. 
What we can say is that with the new Commission Guard update, your JVZoo commissions are safer than ever!
Want to find out the TOP 5 tips we have for starting a work from home business – click here