March's Bragging Rights Results are in!
We know how hard you've all worked to earn these top spots, so without any further ado…
Top Affiliates:

Paul Ponna –

Capturing the #1 spot for the second month in a row and taking all the bragging rights! Way to go Paul! Can you go for a three-peat?




Joshua Zamora – Constantly producing great products and crushing it as an affiliate is Joshua. You are always somewhere on the leaderboard. Keep up the amazing work Joshua!

Jamie Ohler (DropMock) – Someone we are all familiar with, Jamie worked hard to claim the #3 spot.  Great job Jamie!

Matt Bush –

Holding strong and steady at #4 and not letting up, Matt is killing it. Congrats Matt!



Martin Crumlish – Killing it as an affiliate, it's no surprise to see Martin on the list. Awesome job Martin!

Syed Akram – Making the climb up from #7 last month is Syed! We can't wait to see what you do during April.

Todd Gross –

Your consistency comes as no surprise to us and always lands you a spot on our leaderboard! Congratulations Todd!



Adeel Chowdhry –

Back in the Top 10 this month with an amazing effort is Adeel! It is great to see you here again.  Kudos Adeel!



Brett Rutecky –

You are always bustin' a move and working hard! Congrats Brett!



Ben Murray – Holding strong in the Top 10 and still crushing it is Ben!  Keep up the awesome work Ben!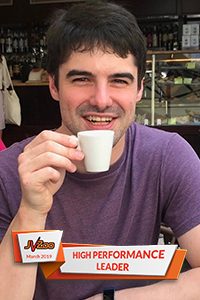 Top Performing Products: