Are you ready for Christmas?
That's the question everyone starts to ask this time of year.
The truth is, if you are in any kind of sales, you should have started getting ready for Christmas a long time ago. But there's still time to cash in on the Most Wonderful (money-making) Time of the Year.
Although you really should start planning 6 months in advance for your holiday season sales strategy, let's be real. We get busy and caught up in other things.
People are still in buying mode up until Christmas Day…and beyond. Don't forget about the cash and gift cards people end up with as gifts that are burning a hole in their pocket AFTER Christmas. And, some people are also looking for tax write-offs before the end of the year.
So, what can you do to leverage the post-Black Friday/pre-Christmas buying frenzy?
Use the "family coming together" angle in your marketing. For example: "Buy my product and get more time with family." Time freedom is one of the things on top of everyone's wish list. And, playing on the sentimentality of the holidays is always a great way to capture attention. Take this touching Pampers commercial for example (try not to get teary-eyed):
Create a gift guide.  Everyone has that someone in their life who "has everything." But maybe your product or business solution is exactly the right thing for that hard-to-buy-for someone. Also, people will be shopping up until the last minute. A digitally delivered product could be a fantastic last minute gift!
Play off of cheesy holiday traditions. Why not try using a the shaking-my-head silly tradition of Ugly Christmas Sweaters to get your customers' attention. People's inboxes are flooded with offers this time of year. So, try a gimmick to stand out. Check out what the Jones Restaurant tried: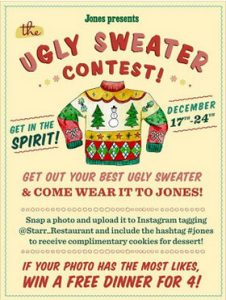 Thankfulness and Gratitude. It's a great time of year to simply show gratitude for your customers. Keeping yourself top-of-mind can only help remind your followers that you have great products for them to give away as gifts.
Create a holiday microsite with special offers. Decorate it in festive holiday design and present irresistible deals. If you don't create a separate site or page, then update the graphics on your main site for the holidays. Also, adjust your keywords to include holiday phrases. Take it from Starbucks and the Red Cups: holiday marketing gets people talking.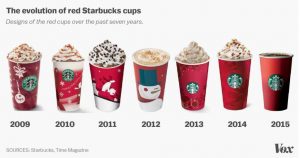 Create an event to celebrate with your customers. This could be with your social media followers or also through holiday themed email marketing. People want to celebrate this time of year, so make it fun! Create a Holiday Themed Contest where followers and customers post a festive holiday photo and use a specific hashtag. Reward them with a Free Gift or Coupon Code.
Partner with a charity. 'Tis the season to be charitable. Find a charity that is in alignment with your business and donate a percentage of sales. People love to feel like they are doing their part in the good of the world…especially if they get something out of it as well!
Include a gift with purchase. People sure do love Free Stuff! So, throw in a little something extra this time of year. Even a small gift goes a long way.
Gift Cards. Use this option in your business for people who want to give the gift of choice. You know you love getting Gift Cards. Create a way to deliver digital versions of Gift Cards.
Re-marketing. This is the most crucial of all. There are so many people out there shopping online an putting stuff in their cart and leaving it there. Even though they are shopping for others, they can't help but shop for themselves as well. Retarget and re-market throughout the holiday season. Because again…people sometimes end up with a wad of cash after Christmas. And, it's the perfect time to make big purchases as tax write-offs just before the fiscal year ends.
Need a few tools to help you with these projects? Check out these Top Sellers at JVZoo!
Create eye-catching videos with AnimationStudio

Use messenger to reach your list using

Inboxr

Turn Your FB posts into profits with

SociJam

Make a profit by helping other businesses do their holiday marketing with

XNiche360
Looking for other ways to improve your business? Check out our FREE TRAINING HERE